Manitoba has now invited 758 immigration candidates to apply for a provincial nomination in 2022. Manitoba released details of a new immigration draw held on January 27.
The Manitoba Provincial Nominee Program (MPNP) invited candidates across three Provincial Nominee Programs (PNPs). Here are the number of invitations issued for each program as well as the minimum score cut-off according to the province's Expression of Interest (EOI) system:
• Skilled Workers in Manitoba — 212 invitations with a minimum score of 609;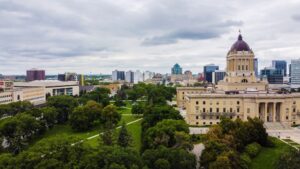 • Skilled Workers Overseas — 63 invitations with a minimum score of 703; and
• International Education Stream — 40 invitations with no score requirement.
Among these invitations, 69 were issued to candidates in the Express Entry system.
Express Entry is Canada's application management system for three federal high-skilled immigration programs: the Canadian Experience Class, the Federal Skilled Worker Program, and the Federal Skilled Trades Program. Immigration candidates who submit a profile to the Express Entry system are ranked based on the Comprehensive Ranking System (CRS). Points are awarded for factors like age, work experience, education, and language skills among others. The highest-scoring candidates receive invitations to apply for permanent residence through regular Express Entry draws.
It is possible to receive a permanent residence invitation by applying directly through Express Entry. However, a provincial nomination gives candidates an additional 600 CRS points, which effectively guarantees they will receive an Invitation to Apply (ITA) in a subsequent Express Entry draw.
Manitoba Immigration Programs
Manitoba manages its immigration programs through the MPNP, which supports immigration applications to the federal government. Canadian provinces do not have the ability to give out permanent residency status, but they can help an application along by issuing provincial nominations. If you want a nomination from Manitoba, you need to register an Expression of Interest with the MPNP. This puts you in a position to receive an LAA through the Skilled Workers in Manitoba and Skilled Workers Overseas streams. Manitoba then ranks candidates out of 1,000 points for their human capital factors, as well as their connections to the province.
In case you are the next one to apply for Permanent Residency then Book your consultation with VConnect Immigration Inc. related to your Immigration Matters.
Like, share, and subscribe for more Immigration Updates!
Instagram: @vconnectimmigration
Tiktok: vconnectimmigration